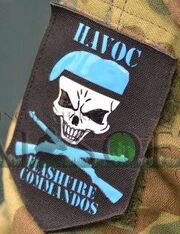 The Flashfire Commandos are an airsoft team who are predominantly based out of Lincolnshire and South Yorkshire in the UK.
Their home site is the Lincolnshire Airsoft Club but travel around to other sites for away games.
They currently have 7 members; 1 Team Leader, 2 Quartermasters, 2 Guards, a Sniper, and a Scout.
Motto: First ones in. Last ones out.
Ad blocker interference detected!
Wikia is a free-to-use site that makes money from advertising. We have a modified experience for viewers using ad blockers

Wikia is not accessible if you've made further modifications. Remove the custom ad blocker rule(s) and the page will load as expected.