FPS (.20g): 340
Battery: 8.4V Golden Eagle
Fire rate: 13-15 RPS
Range: 140 feet plus
Material: Full polymer construction.
Weight: 6.5 lbs
Magazine: 470rd
Length: 720mm-50mm (stock folded)
Barrel: 228mm
MSRP: $120
Pros:
Very reliable
Quite accurate
Range is fantastic for the length
Fire rate is pretty good
Weight is very close with the real thing
Mags are very high capacity
Ergos are amazing
Solid
Cons:
Battery compartment makes it difficult to attach batteries with long wires
Rating: 9/10. A very solid design for it's age. Fantastic for the price.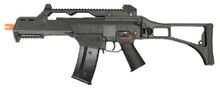 Ad blocker interference detected!
Wikia is a free-to-use site that makes money from advertising. We have a modified experience for viewers using ad blockers

Wikia is not accessible if you've made further modifications. Remove the custom ad blocker rule(s) and the page will load as expected.