A very close replica of the famous Swiss engineered combat pistol that feels like you're holding and shooting the real thing. Shoots up to 287 fps with no spin up mechanism. Use with either .12g or .20g, 6mm pellets.... - Weight: 11 oz - Overall Length: 8 - Barrel Length: 4 - Velocity: 290 fps - Power Source: Spring Powered, No Spin-Up mechanism - Front Sight: Post - Rear Sight: Fixed - Safety: Manual - Magazine Capacity: 12 Round - Notes: Use .12 g or .20 g airsoft BBs for best performance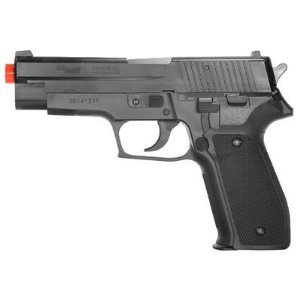 Ad blocker interference detected!
Wikia is a free-to-use site that makes money from advertising. We have a modified experience for viewers using ad blockers

Wikia is not accessible if you've made further modifications. Remove the custom ad blocker rule(s) and the page will load as expected.